Faculty
Select from the names below to read their biographies: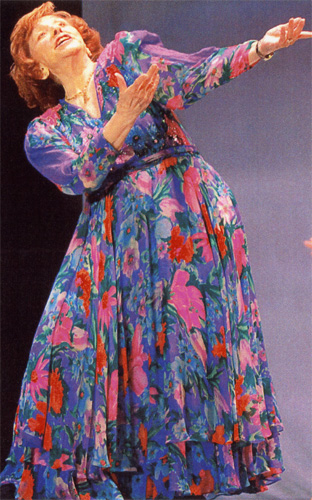 Georgia Deane
Cynthia Marnik
Laura Young
Jill Silverman
Alison Dulak
Donna DeSantis



Georgia Deane: Artistic Director & Founder
Georgia Deane is the artistic director and founder of the Deane School of Dance and the Greater Milford Ballet Company in Mendon,MA. She has been a dance teacher for 50 years, a professional performer of voice and dance, a musician, chairman of the Salem Cultural Arts Commission, Chairman of the Milford Arts Council, President of the Dance Masters of America and Dance Teachers Club of Boston, and a teacher's teacher for dozens of dance teachers worldwide. She has taught for dance seminars and teacher conventions of leading dance organizations in the United States and abroad. She is also a competition judge for the National Dance Council of America.
During Georgia's early years, she studied dance, voice, violin, piano, and guitar. As an aspiring actress, she attended EmersonCollege and graduated from CurryCollege, majoring in theater arts and dance. After college, Georgia and her two sisters, Helen and Maryann Deane, toured on the RKO circuit performing trio harmony and dance with stars such as, Frankie Fontaine and Red Buttons. The sisters also performed in the New England area at nightclubs and did numerous commercials on radio. From that time to the present, Georgia Deane has studied regularly in New York and New England with master dance teachers such as, Luigi, June Taylor, Paul Hakon, Paul Draper, Peter Gennaro, Harriet Hoctor, Gus Giordano, Marina Svetlova, E. Virginia Williams, to name a few.
Georgia has two children, Cynthia Marnik and Dean Avellis, who are also performers and teachers. Miss Georgia also has 8 step-children, 3 grandchildren, and 5 great-grandchildren.



Cynthia Marnik: Co-Director
Cynthia Marnik, who is co-director of the Deane School of Dance, has taught dance since the 1970's. She is affiliated with the Deane School of Dance in Mendon and Salem, MA, and she also teaches master classes for other dance studios and has been on the faculty of Dance Masters of America and Dance Teacher's Club of Boston.
A member of the Deane Family, she has experience as a professional dancer, singer, and actress. In addition to her study of dance with her mother and aunt, Georgia Deane and Helen Deane, she has studied with E. Virginia Williams, Sydney Leonard, Luigi, June Taylor, Madame Valentina Periaslavic, Marina Svetlova, Paul Draper, Harriet Hoctor, Paul Hakon, Gus Giordano, David Howard, and Joe Pugliese, to name a few.
Cynthia is also the director of the Salem Children's Theater, former director of the Mendon Children's Theater, former member of Boston Ballet, choreographer of more than 50 musical theater productions, former chairman of the Salem Arts Council, a school teacher, Director of a Miss America Preliminary Pageant, and an event planner.
Her dance choreography at the Deane School always adds a theatrical flair to their productions.
Laura Young: Principal of Boston Ballet School, Metro West Studio, Principal of Dancelab - Choreographer for Greater Milford Ballet Company's "The Nutcracker"

Young was appointed principal of Boston Ballet School's Boston Studio in 1994. From 1986 until 1994, she was director of Boston Ballet's International Summer Dance Program. From 1986 to 1996, she directed Boston Ballet II, a group of young professional dancers that performed with Boston Ballet and presented lecture demonstrations throughout the Northeast. Currently Ms. Young is a faculty member and Principal of Boston Ballet's Metro West Studio and Principal of DanceLab, a summer intensive for young ladies aged 12-16.
Ms. Young has given guest master classes at the Boston Conservatory where she has also staged Napoli and Pas de Quatre, Walnut Hill School, Harvard Dance Program, Alwin School of Dance in Albuquerque, New Mexico, Oklahoma Summer Arts Institute, Festival Ballet Providence, Worcester Performing Arts School, Dance Place of Newburyport, Academy of Ballet Arts in Chelmsford, Ashland (KY)Youth Ballet, Cape Cod Conservatory, Mid-Cape Ballet Academy, National Dance Theatre of Bermuda, Granite State Ballet, Lexington (MA Ballet, Florida Ballet Arts School in Sarasota, Northeast Regional Ballet Festival, Dance Masters of New England, who made her the first Honorary Member of Dance Masters of America Chapter 5, and Greater Milford Ballet, where she has staged a production of Nutcracker for the past eighteen years. She was named a "Grand Bostonian" for the city's 350th gala celebration, and received a "Citation for Special Achievement" at the Eighth Annual Elliot Norton Awards.
Laura Young has performed as principal dancer in countless ballets and has performed with dancers, such as, Nureyev, Edward Villella, Margot Fonteyn, and Fernando Bujones.
Jill Silverman: Jill teaches dance throughout New England, most notably at Dean College. She has been associated with American Ballet Theatre, Boston Ballet, Harkness Ballet and Joffrey Ballet. Jill holds a Master of the Arts in Pedagogy; teaches Ballet, Pointe/Variations, Pedagogy and Dance Company Choreography at Dean College; and is Director of Dance Company at Dean College.

Alison Dulak: Alison Krauss-Dulak began her career in dance as a student and then as a teacher at the Deane School of Dance under the direction of Georgia Deane, Cynthia Marnik and Laura Young. She attended many summer intensives at Boston Ballet and was a student and counselor at the Svetlova Dance Center in Dorset, Vermont. Alison apprenticed and then became a company member of the Granite State Ballet Company. She was a soloist and teacher for the company's professional school. Alison recently became a certified teacher of Rhythm Works Integrative Dance for children with physical and developmental differences. Alison has taught ballet at the Granite State Ballet School in Nashua, NH, Studio One in Salem, MA, the Putnam Dance Center in Putnam, CT, Let's Sing Dance Act in Hopkinton, MA and at the Deane School of Dance in Mendon, MA.
Donna J. DeSantis, M.Ed: Teaching tap, jazz, ballet, and special needs students
Donna DeSantis has focused on dance since the age of 4. At age 10, Donna danced with the Boston Ballet in their season performance of Coppelia. She has won numerous dance competitions and performed in shows including West Side Story, Carousel, Irene, Fiddler on the Roof and many more! From 1992-2006 Donna owned and operated the Millis School of Dance. Her students have won numerous dance competitions and have established themselves in the world of dance as professional artists, including performing with professional ballet companies.
In 2009 Donna earned a M. Ed and is a licensed Massachusetts teacher. She currently teaches in the Marlborough school district working with special needs students.